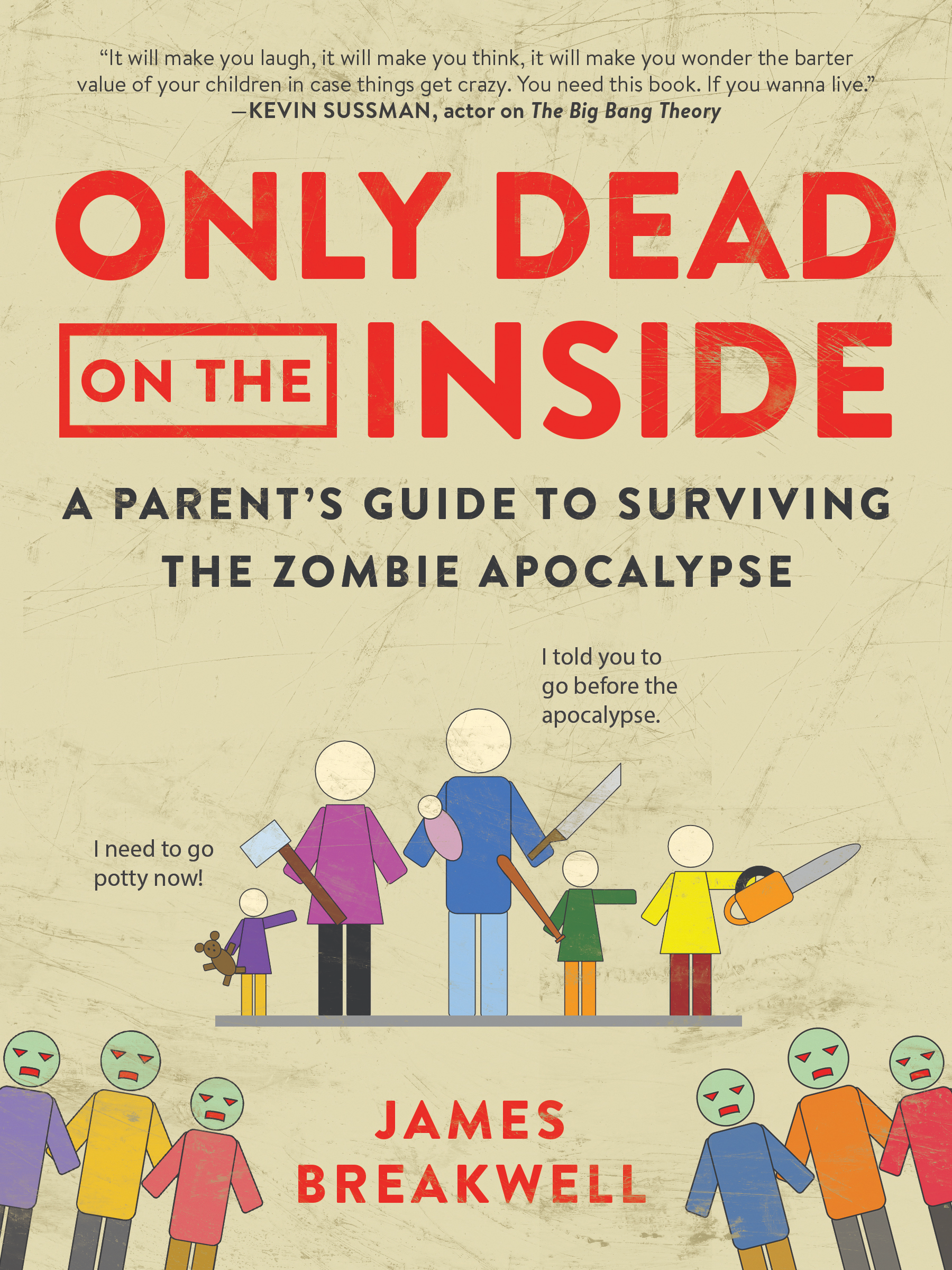 Where to Order
Main Street Books (Indie Bookstore, U.S. Only)
About
It's not easy being a parent these days. There are bills to pay. Kids to feed. And hordes of undead monsters to keep at bay.
There are plenty of guides out there about how to survive the zombie apocalypse. All of them assume readers are young, fit, and unencumbered by children. In that scenario, the only living humans left will be smug, outdoorsy Millennials. That's hell on earth, even without the zombies.
Only Dead on the Inside is the answer for the rest of us.
Written by professional comedy writer and amateur father-of-four James Breakwell (@XplodingUnicorn), Only Dead on the Inside blends traditional parenting advice with zombie survival tips, bringing together two totally unrelated genres in a book no one asked for but everyone needs.
This step-by-step manual teaches you how to raise happy, healthy children in a world overrun by the undead. Motivated moms and dads want it all, and that won't change at the end of the world. There's no reason you can't be a zombie killing machine AND parent of the year, but you have to work for it.
If you want to make sure your family is apocalypse-ready, Only Dead on the Inside is your best—and only—chance at survival. No pressure, but if you don't read this book, your children will die.
Blurbs
"The quintessential guide on the topic. It will make you laugh, it will make you think, it will make you wonder the barter value of your children in case things get crazy. You need this book. If you wanna live."
–Kevin Sussman (@KevinSussman), actor on the hit CBS sitcom The Big Bang Theory
"I have to admit: I giggled."
–Jessica Lahey (@jesslahey), New York Times bestselling author of The Gift of Failure
"At first I was like, "Oh, great, another another hilarious parenting book written by a viral internet sensation. Just what the world doesn't need." But then I finally read ONLY DEAD ON THE INSIDE and realized this was a hilarious parenting book by a viral internet sensation with zombies and I was like, "I was wrong. The world does need this!" You'll chortle, you'll chuckle, and you might even learn something."
–Jen Mann (@Throat_Punch), New York Times bestselling author of People I Want to Punch in the Throat: Competitive Crafters, Drop-off Despots, and Other Suburban Scourges
"This guide to parenting through the apocalypse is so darkly hilarious, you don't even need to be a parent or have experienced an apocalypse to enjoy it."
–Liz Climo (@elclimo), The Simpsons artist, author, and creator of the viral comics on lizclimo.tumblr.com
"Breakwell provides an entertaining read for parents and parents-to-be, with survival tips that hold true even if you aren't rearing your offspring in a savage, zombie-filled dystopia."
–Amber Hunt (@ReporterAmber), award-winning journalist and New York Times bestselling author of The Kennedy Wives: Triumph and Tragedy in America's Most Public Family
"Are you a parent of cute, selfish, tiny people who look like you but don't pay rent, destroy your sleep, inspire homicidal thoughts and shatter your self confidence daily? Do you need help to survive this crisis? (Yes, yes you do.) Long-suffering parent, you must immediately read James Breakwell's hilarious, fast-paced and practical book chalk-full of wisdom, to do lists, rules and big pie charts and graphs. Breakwell not only taught me how to survive the madness of parenthood, but also how to protect my babies from becoming undead, crawling brain-eating monsters in diapers after the inevitable zombie apocalypse."
–Wajahat Ali (@WajahatAli), speaker and New York Times Op-Ed Contributor
"This book is hilarious! I couldn't put it down (out of fear for my life and that of future generations). This guide is the ultimate weapon against fighting zombies which is the scariest prospect second only to parenting. I would put this novel in the self-help section with a seal of Oprah's approval, because not only does it help you live your best life it finally gives you a good reason for owning that cumbersome stroller."
–Abbi Crutchfield (@curlycomedy), stand-up comedian and host of You Can Do Better on truTV
"The case is made for why parents will be the ultimate survivors of the Zombie Apocalypse. Whether it's using 'the unreliability of your children to your advantage' or benefitting from the enmity a normal game of Monopoly can conjure, Breakwell pulls everyday scenarios for parents, and hilariously weaponizes them for your survival. Plus, any book that uses the phrase 'catastrophic bowel movements' is a book I want to read."
—Patrick Quinn (@QuinnPJ), cofounder of Life of Dad, a social network for fathers
"Dear God, this is funny. I don't laugh out loud and I just spend the evening, well, laughing out loud. It's less about zombies than about parenting and it's less about either than just using both as a reason to just shoot the breeze. Think Dave Barry, David Sedaris, a bit of David Rakoff and there must be some other David I'm forgetting who is also unique and hella funny. Preorder this online, get it from your favorite local store, I don't care.
JUST GET IT."
–Quinn Cummings (@quinncy), author of Notes from the Underwire and The Year of Learning Dangerously
"James Breakwell is the Dr. Spock of the apocalypse and his no-nonsense guide to raising happy, healthy kids as the world spirals into blood-soaked chaos and unspeakable brain eating horror belongs in every home. When the undead come knocking, you'll burn all your other parenting books for fuel. Breakwell gives you the real-world, end-of-world strategies that you simply won't find anywhere else. Your family will survive and even thrive in the zombie apocalypse while parents who bought guides to raising gifted kids go down in the first wave. Wouldn't you rather have this book and not need it, than need it not have it?"
–Eileen Curtright (@eileencurtright), author of The Burned Bridges of Ward, Nebraska
"If the only line in this book was, 'The fat shall inherit the earth'", I would still urgently recommend this book because it will have validated my entire existence. But even if you are a naturally skinny asshole whose thighs have never touched, you need this book. Because for once, your time will not be wasted worrying about fake threats like Putin and ISIS, but the very real threat of the undead coming to suck on your scrawny bones. Which doesn't sound so terrible if you're exhausted from raising the living parasites you birthed, but trust me, this isn't about you. It's not even about your thankless progeny. It's about saving the little bloodsuckers that call you mom and dad from being bitten by zombies in order to ensure the future of the human race. Which is a debatable end goal too, so strike that. Read this book because it will make you giggle uncontrollably, cry like no one's watching, and wonder if becoming a zombie isn't so bad after all. Eighteen stars. Highly recommended."
–Rabia Chaudry (@rabiasquared), attorney and New York Times best-selling author of Adan's Story: The Search for Truth and Justice after Serial.
Reviews
Can I get Another Bottle of Whine